While Justice Secretary Vitaliano Aguirre II has repeatedly denied it, documents obtained by Rappler paint a different picture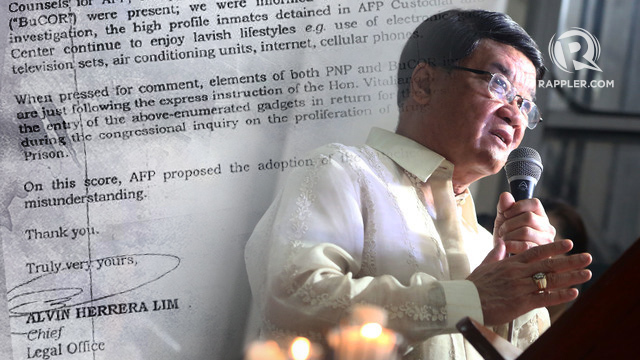 MANILA, Philippine – Senator Leila de Lima accused Justice Secretary Vitaliano Aguirre II of rewarding high-level profile convicts with privileges in exchange for their testimonies against her at a congressional inquiry into her alleged involvement in the drug trade at the New Bilibid Prison.
Aguirre, however, quickly denied this and even ordered Bureau of Corrections (BuCor) chief Benjamin delos Santos to conduct an investigation into the allegation.
"You are hereby directed to investigate and verify such report. If so warranted by your investigation, any special privileges granted to these inmates, be it in the form of special favors, improvements, and equipments in violation of the Memorandum of Understanding (MoU) between the Department of National Defense (DND) and Department of Justice (DoJ), shall be immediately confiscated or dismantled," Aguirre said in a one-page memorandum to Delos Santos on Wednesday, February 8.
In an interview with reporters on Thursday, February 9, Aguirre strongly reiterated his denial.
Directly asked if he promised the convicts anything in exchange for testifying against De Lima, Aguirre said: "Siguro mga isang daang beses ko na sinagot ang tanong na ito. Wala. Nothing. Nada (This may be the hundredth time I'm answering this question. Nothing. Nothing. Nothing)."
He said he does not know everything that's happening in the BuCor, even if it is under the DOJ.
"Ako'y Department of Justice; BuCor 'yan. May sariling pamunuan yan. 'Di lahat ng nangyayari sa BuCor dapat alam ng secretary of justice. May namamahala diyan. 'Pag dumating sa aking kaalaman, I'll do what is necessary," he said.
(I head the Department of Justice; that's BuCor. It has its own administration. The secretary of justice does not have to know everything that's happening in BuCor. There are governing officials there. Once it reaches me, I'll do what is necessary.)
In September 2016, when Aguirre accused De Lima of involvement in the proliferation of drugs at the Bilibid when she was justice secretary, he insisted that she should have known everything that happened in the national penitentiary since the BuCor was under her supervision.
On Thursday, Aguirre said: "Kung nagkaroon man ng ganyan (If such a thing ever happened), it's not my fault. I never tolerated it."
Aguirre then questioned De Lima's motive for throwing such an accusation.
"Siguro, gusto niya lang mga issues palabuin (Maybe she wants to muddle the issues). She knows that anytime, lalabas na ang warrant of arrest (the arrest warrant against her would be served)," said Aguirre, referring to the drug charges filed against the senator.
Documents
BuCor documents, however, paint a different picture: Aguirre knew what was happening in the BuCor.
A confidential memorandum dated December 9, 2016, revealed that on December 2, 2016, the Armed Forces of the Philippines, the BuCor, and the Philippine National Police held an inter-agency meeting in Camp Aguinaldo to discuss the implementing rules and regulations (IRR) on the utilization of the AFP custodial and detention center.
The memorandum, containing the report on the December 2 meeting, was written and signed by Alvin Herrera Lim, chief of the legal office of BuCor. It was intended for BuCor chief Delos Santos.
Parts of the discussion, Lim said in the memo, centered on the excessive lifestyle of the inmates, after an AFP confidential investigation found out that "high profile inmates detained in the AFP Custodial and Detention Center continue to enjoy lavish lifestyles e.g. use of electronic gadgets, smart television sets, air conditioning units, internet, cellular phones."
"When pressed for comment, elements of both PNP and BuCor invoked that they are just following the express instruction of the Hon. Vitaliano N. Aguirre II to allow the entry of the above-enumerated gadgets in return for the testimony they gave during the congressional inquiry on the proliferation of drugs" inside Bilibid, the memo read.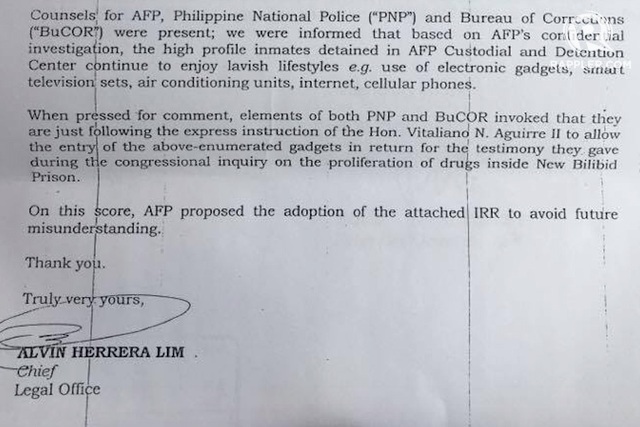 It then enumerated the AFP's proposed IRR on the use of its custodial center "to avoid further misunderstanding."
The proposed implementing guidelines include the ban on mobile phones or any other devices "which will allow [inmates] contact outside the facility." This rule even extends to authorities watching over them.
It added that "inmates may be provided limited recreational equipment subject to approval."
It further said that the PNP and BuCor personnel assigned to watch over the inmates "shall be subjected to AFP camp rules and regulations at all times."
While Aguirre's signature was not seen on any document, the BuCor chief sent a memorandum to the DOJ secretary on December 15 – barely a week after the December 9 memorandum – informing him of the details of the December 2 conference.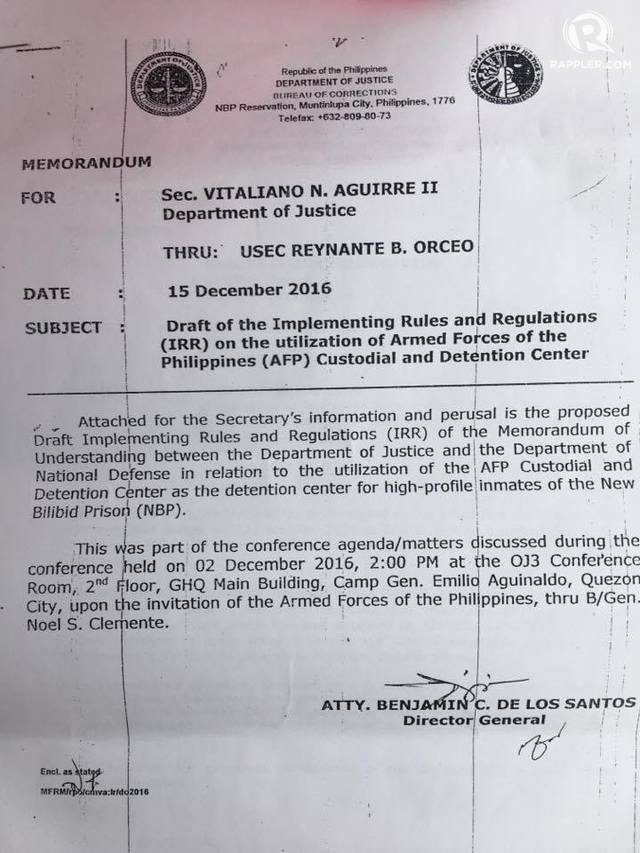 De Lima said it is time for Aguirre to debunk the documents, including the report on the meeting where the AFP reportedly pointed to the VIP treatment of high-profile inmates in its detention center.
"Ang dapat kasing sagutin nila 'yung tungkol nga doon sa dokumento, 'di ba? 'Yun ang sagutin nila kung totoo 'yun, kung nagkaroon ng ganoong meeting at ganoon nga ang naging kinalabasan noong meeting. (They should answer the document. That's what they should answer if it is indeed true that there was a meeting and if such is the outcome.) It was an inter-agency meeting ng BuCor ng DOJ, ng AFP," she said.
Authorities have repeatedly cited the crucial role of cellular phones in faciliating the drug trade in Philippine prisons.
SOURCE: https://www.rappler.com/newsbreak/iq/160962-fact-check-aguirre-reward-bilibid-convicts-de-lima